Tea Gift Basket

A tea gift basket, by Susie, is the solution for that hard-to-please recipient.  Nothing shows kindness and caring like the gift of tea and good health.
Why a tea gift basket? Are you looking for a unique gift idea? A special something for that special someone who seems to have everything? A corporate gift for business associates? A donation gift to a select charity? A surprise gift for your long-distance loved one?  A gift for your picky mother-in-law? Finding such a gift can be difficult. Let Susie's Tea Gift Baskets and Your Loose Teas solve this vexing problem.

"Your Loose Teas" now has tea gift baskets made by "Susie's Tea Baskets." We fill these wrapped, and ready tea gift baskets with three different organic, Sri Lankan, loose leaf tea blend packets from "Your Loose Teas" Company.
Included are mug, tea steeper, or all-natural tea bags, napkins, and decorative gift wrap and packaging.
Our tea baskets are decorated with varying colors and themes. You choose which one is appropriate for your occasion. These baskets are perfect for a birthday, anniversary, wedding, holiday, bridal shower, new mother gift, or any other special day in between.

In keeping with our commitment to the environment, we assemble our gift baskets from as many upcycled products as possible. Because of this, no two gift baskets are exactly alike. Sizes, shapes, and colors of baskets and accessories vary, helping to give our tea gift baskets their unique quality.  We purchase our accessories in person from reputable shops around the USA.  
The word "sustainability" is overused in the digital world but here it means being solid stewards to the local environment and maximizing monies to the Sri Lankan farmers.  We have our farmers process the teas in small pouches improving profits for the locals.
Common Contents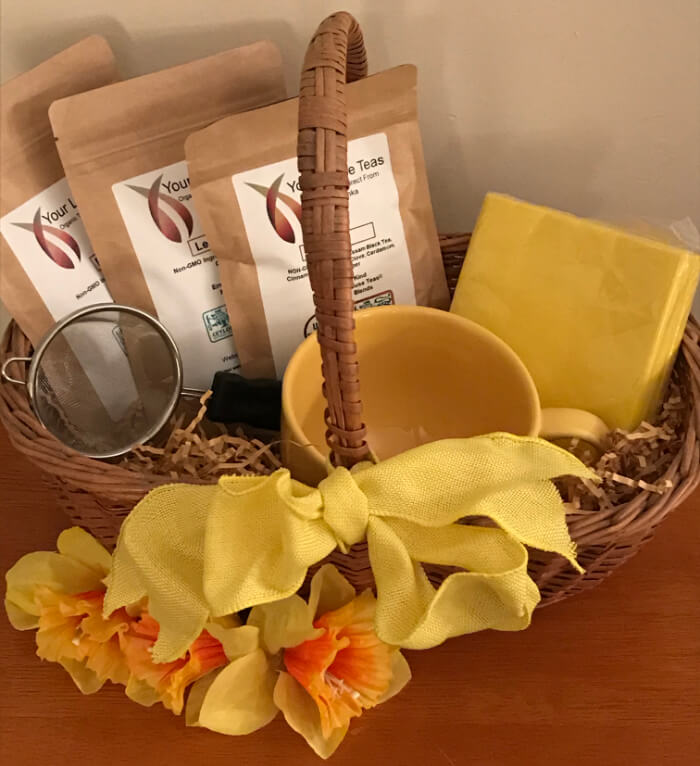 Tea Gift Basket by Susie - Generic Contents. Chai, Lemongrass, Earl Grey, Mug, Strainer, Napkins
The three different tea blends in our gift baskets are aromatic and delicious. "Your Loose Teas" loose leaf tea blends vary in flavor to suit everyone's tastes: Chai, Lemongrass, and Earl Grey. All of our blends taste great brewed hot or cold. They can be served on their own, or combined with milk, cream, sugar, fruit or spices.

We package the gift tea basket using bubble wrap and thick sided cardboard boxing.  
If you have a tea lover in your life, why not gift them one of "Susie's Tea Baskets" today?

PLEASE NOTE:  Since our baskets are wrapped and ready to ship, we do NOT make custom orders.

Tea Gift Basket by Susie - Themes
For PC users, click on any picture to see our themes in gallery format.

Tea Gift Basket by Susie - Outlandish Highlander With Tea, Goodies and Plaid Kilt (Wrapped)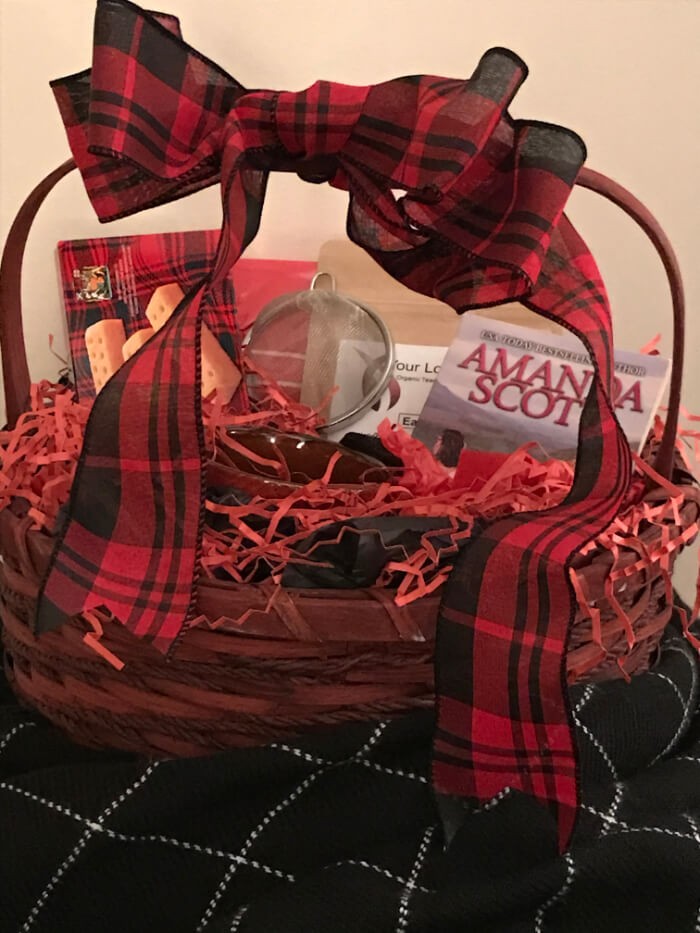 Tea Gift Basket by Susie - Outlandish Highlander With Kilt and Goodies (Unwrapped)
"Tea Gift Baskets by Susie" announces new items and prices! 
Our Latest Goodie:  
The "Outlandish Highlander Tea Gift Basket," includes organic loose-leaf Earl Grey Tea, Walker's Imported Scottish Shortbreads, a historic Highlander romance novel, mug, napkins, and steeper or natural tea bags.   All wrapped in plaid fabric "kilt" and plaid ribbon!
Order yours today, and browse more tea baskets.
Cheers To Tea!  Slainte!
---
Tea Gift Basket by Susie - Beach, Sand, and Sea. Basket with colors of light blue sea and soft brown sand, finished with a lovely seashell. Perfect for the beach lover!
---
Tea Gift Basket by Susie - Blue Blossom. Beautiful sky blue blossomed tea gift basket. Perfect gift for your mother, or mother-in-law!
---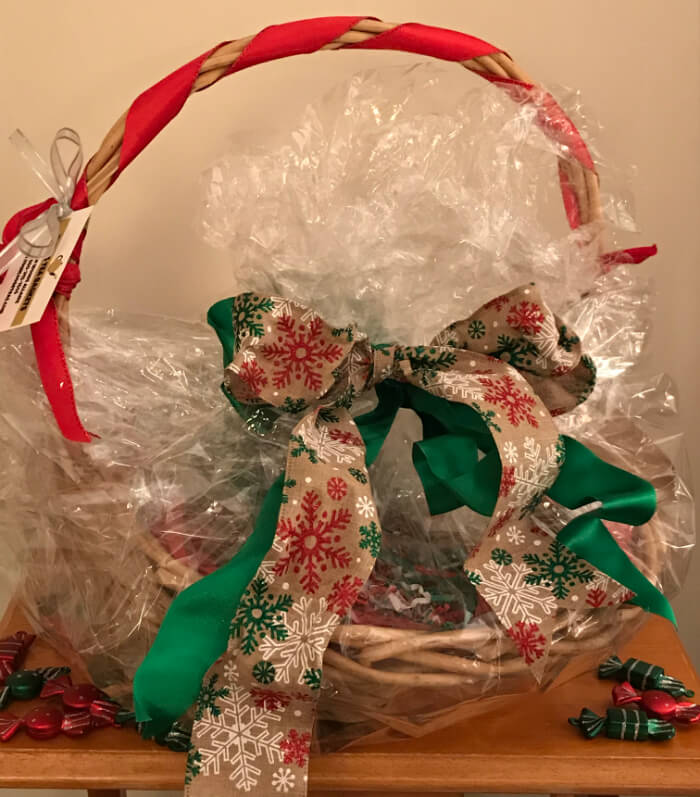 Tea Gift Basket by Susie - Festive Holiday. The colors work for Fall and Winter for any occasion.
---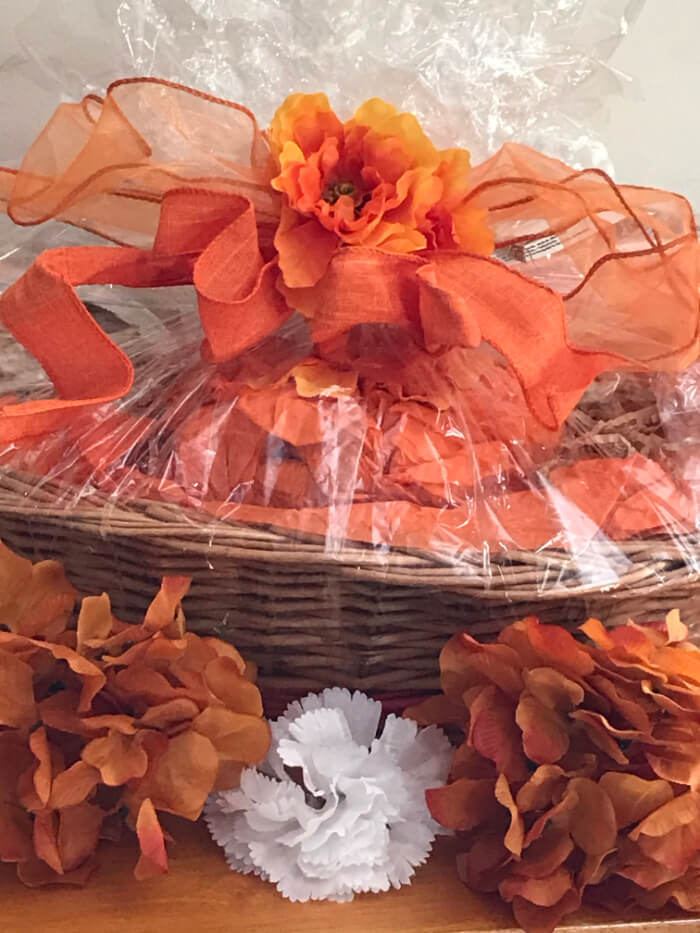 Tea Gift Basket by Susie - Orange Blossom. Vibrant sun-kissed orange tea gift basket. The perfect gift to brighten your day!
---
Tea Gift Basket by Susie - Pink Blossom. The positive power of Pink! Maybe a special "pink" gift for a loved one undergoing breast cancer treatment - our teas are antioxidant and help soothe upset stomaches. Sweet pink blossomed tea gift basket.
---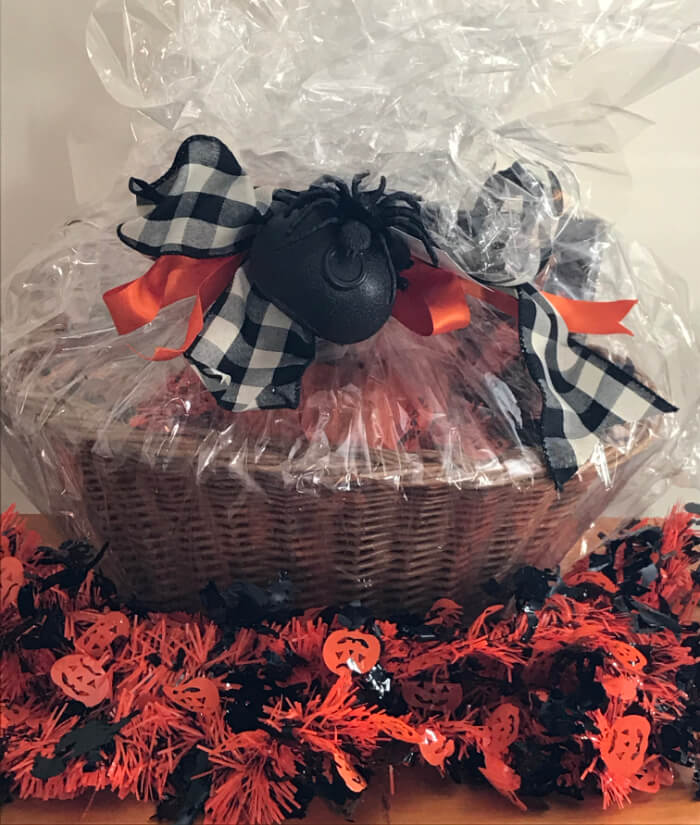 Tea Gift Basket by Susie - Haunted Halloween. Eeeek! Don't let this basket scare you! Decorated with traditional Halloween colors of orange and black, and packed with a surprise rubber spider sitting on your mug!
---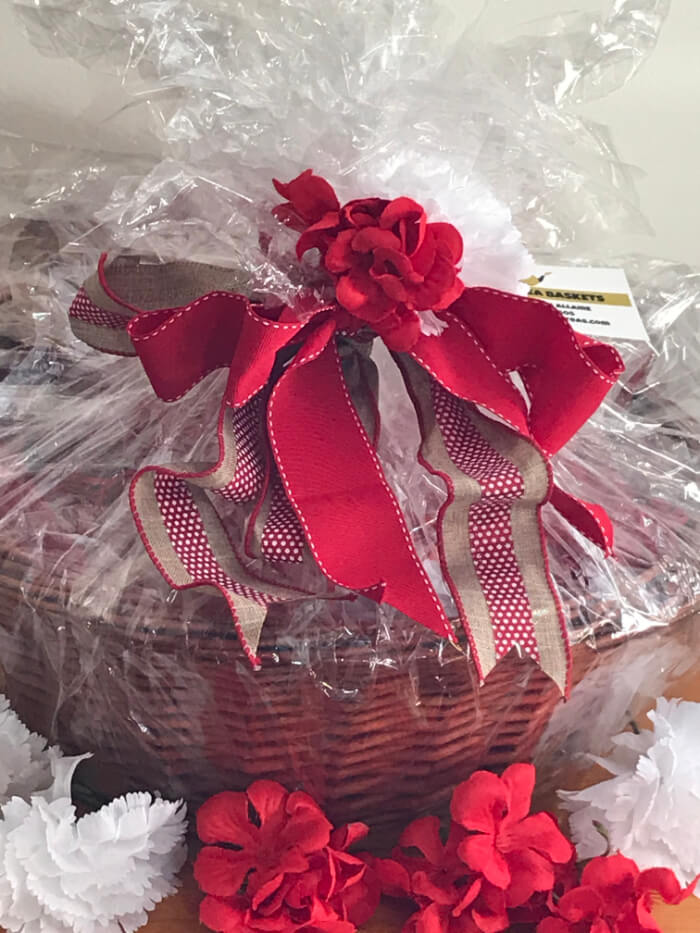 Tea Gift Basket by Susie - Red Blossom. Romantic rose red colored basket. Perfect for Valentine's Day or any other day to show someone how you feel about them!
---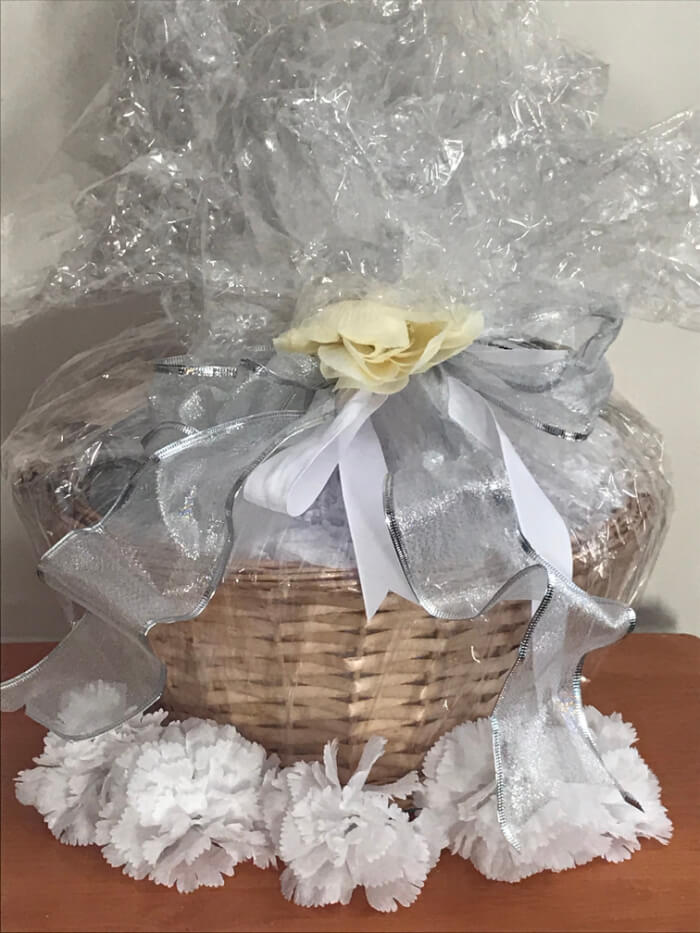 Tea Gift Basket by Susie - White Blossom. Beautiful white blossom and white ribbon decor. Makes a thoughtful bridal shower or wedding anniversary gift!
---
Tea Gift Basket by Susie - Winter Snowflake. An elegant Winter Classic!
---
Tea Gift Basket by Susie - Foliage Blossom. Seasonal Autumnal colored gift basket. A perfect hostess gift to bring to any Thanksgiving celebration!
---
Questions and Answers About Your Tea Gift Basket

Shipping
We ship free inside the continental USA.  We typically contract with USPS with tracking unless you request special shipment.  We take responsibility for damage and simply require a picture from you.  Our customers tell us their packages arrive within five working days.  We email you updates of the order status.
Packaging
Our intent is for the recipient to open this gift and simply enjoy it. We double pack the ceramic mugs but all else is securely packed inside our wrap with the handle exposed.  Our boxes are extra thick and dense and the entire basket is bubble wrapped.  Our gifts make a grand first impression.
Upcycling
We travel around the east coast for bargains of all kinds, not just tea accessories.  We do not purchase items sight unseen.  We thoroughly clean and sanitize all items before packaging.  We have no interest in typical products.
Unique But Not Custom
We offer unique gifts.  The teas are the constant.  All the other accessories vary.  We allow you to create wording to be included on a gift tag but the accessories all vary from package to package.  You may contact us through online forms with special instructions.
Guarantee

We will offer a full refund if you are not 100% satisfied.