The Tea Industry Globally Sourced
For Over 100 years  
The tea industry globally is growing, especially the sustainably grown segment.  Consumers purchase authenticity and sustainability.  

The next two tables show the tea industry globally sourced by countries that are the dominate growers and consumers in the industry.    
Following the tables are links to articles and websites with in-depth analysis of the market.  Organically grown are included with conventionally grown and exported or imported.
Overview
Sri Lanka Tea Ready for Export
Tea farming is labor intensive. Workers within the producer countries hand pick leaves from Camellia Sinensis at different times of the year depending upon the processing required. Millions are employed.  
At the factory, leaves are pressed, dried and crushed.  Bails of this "made tea" are sold to international traders. About 85% of tea is sold to major companies including Unilever, James Finlay and Tata.
Blending of tea types and categories typically occurs in the consuming country.  
Industry experts estimate tea production at 4,000,000 metric tons of black tea (Kenya and Sri Lanka) at about 60% and green tea at 30% (China).
Tea demand is outpacing production.
Production By Country (Thousand Tonnes)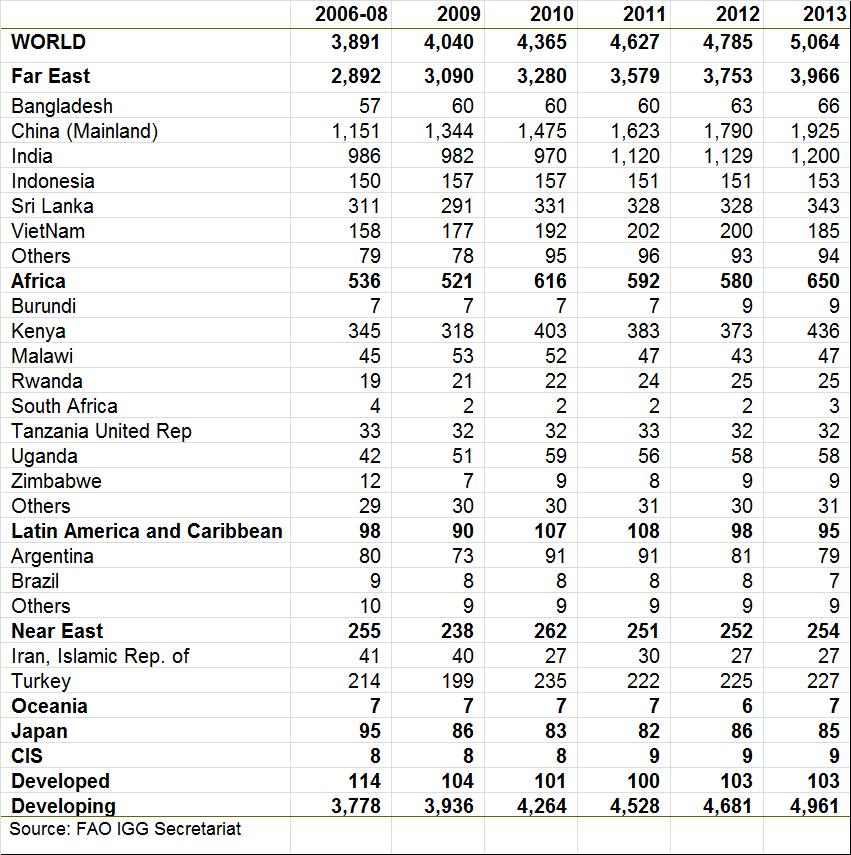 Exports By Country (

Thousand Tonnes

)
Consumption By Country (Thousand Tonnes)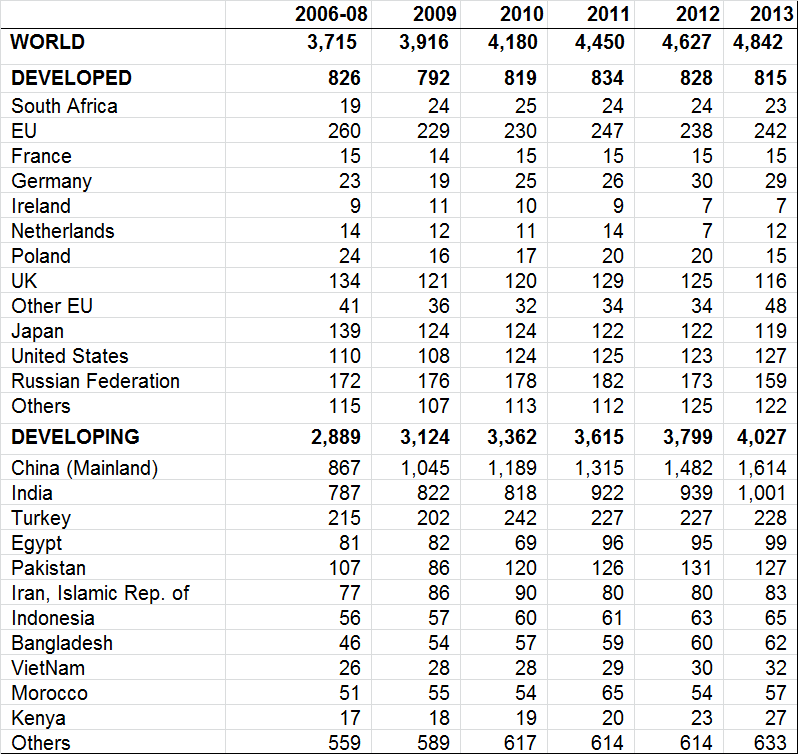 Resources For The Tea Industry
Globally Connected
(ITC) International Tea Committee - This non-profit trade association was established to stop the brutal tea trade war in the early 1900's. In  1933 representatives of the tea growers in India, Ceylon (Sri Lanka) and the Netherlands East Indies (Indonesia) negotiated a trade agreement limiting production. Today, the ITC collects and compiles statistics and information relating to the tea industry globally including production, exports, consumption and stocks in the producing countries as well as in all other countries.
(CBI) Centre for the Promotion of Imports from Developing Countries - is an Agency of the Netherlands Ministry of Foreign Affairs. Established in 1971 in order to support producers / exporters to get a foothold in the Netherlands market. CBI assists Business Support Organisations in improving their capabilities and act as a Matchmaker between suppliers and buyers. In 1991, the activities were expanded to EU and since 1998, it has become an Agency.
(IDH) The Sustainable Trade Initiative - is a foundation registered under Dutch law.  IDH creates coalitions of private companies, civil organizations and governments to help the tea industry globally to increase sustainable production and consumption worldwide.
IDH - Tea Sector - by Michael Groosman, October 2011, PDF download
Agritrade - is a resource website for ACP-EU agriculture and fisheries trade issues.  ACP-EU is an inter-country cooperation agreement between the European Union (EU) and the countries of the African, Caribbean and Pacific Group of States (ACP).

(TCC) Tropical Commodity Coalition for Sustainable Tea, Coffee and Cocoa - consists of ten non-governmental organizations: Hivos, Oxfam-Novib, Solidaridad, Oikos, Somo, Fairfood, India Committee of the Netherlands, BothEnds, Goede Waar&Co, Stop the Traffik and two trade unions: FNV Bondgenoten and CNV BedrijvenBond. It cooperates with NGOs and trade unions in coffee, tea and cocoa producing countries to improve the social, environmental and economic conditions at the beginning of these value chains.
(IPC) International Food and Trade Policy Council - Founded in 1987, the IPC's stated purpose is serving as a balanced, non-governmental group of leaders in agriculture that could enhance the policy dialogue by providing advice and counsel to governments and the interested public.
(FAO) - Food and Agriculture Organization of the United Nations
Tea Outlook May 2016
Global Industry - Contribution of Small Holders